September 13th, 2021
New Danville will be closed Tuesday, Sept. 14, because of possible hazardous weather related to Tropical Storm Nicholas. For the safety of our clients and staff, it will be best to not be on the roads tomorrow.
We assume conditions will allow us to be open as normal on Wednesday, however, if the situation changes we will inform you.

Thank you & Stay Safe
September 12th, 2021
We will be keeping a close eye on the weather over the next few days as Tropical Storm Nicholas might bring heavy rain and flooding to our area. We will alert everyone via email, Facebook, and here – if there is a need to close.
https://spacecityweather.com/nicholas-to-bring-a-mess-of-rain-to-texas-and-a-large-area-is-still-at-risk-for-flooding/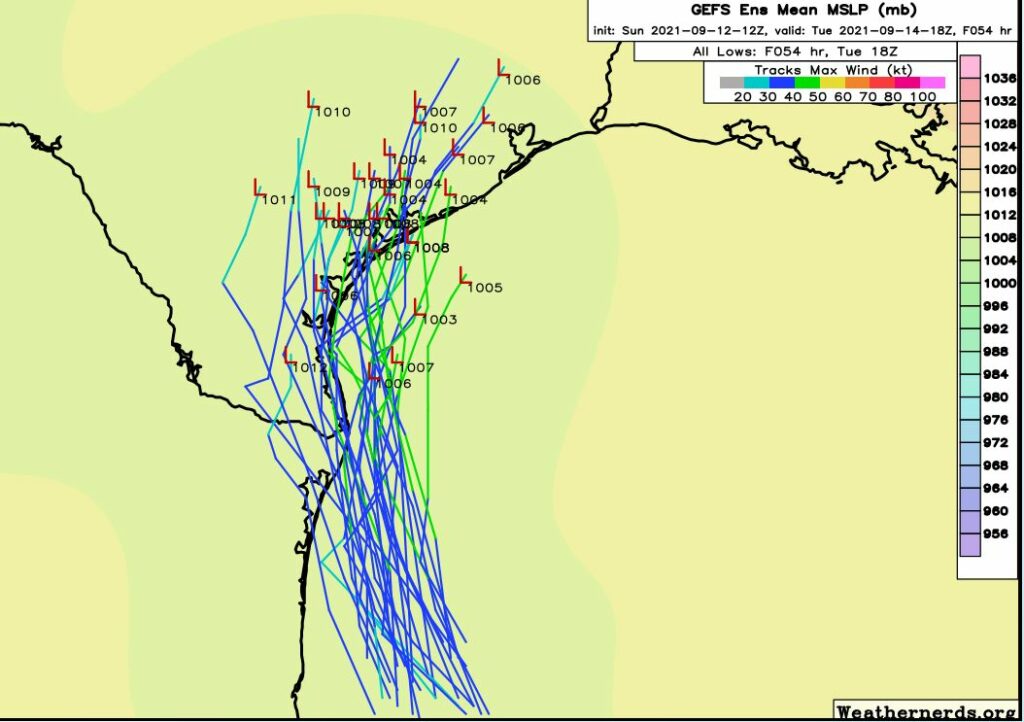 August 11th, 2021
Dear Parents, Caregivers, and Providers:
Given the rise in cases in our area, as well as the low vaccination rates in the Conroe and Willis areas, New Danville is going to institute a mask mandate for all clients, staff, and visitors effective tomorrow, August 12th. I do apologize for the sudden notice, but this is something we have been monitoring very closely for the past two weeks, and the situation is not improving. There will be no other changes to our operations at this time. Class schedules will remain the same.We will continue to monitor this situation very closely. As always, the health and well-being of our staff and clients is our first priority.
Thank you for your cooperation and support.
Eva T. Aguirre, C.A.L.A.President & CEO
August 2nd, 2021
Dear Staff, Families, and Caregivers:
Thank you to all of you that responded to the email concerning the vaccination status. As noted, all emails have been deleted and were only seen by me. Here is a summary of where we are and the current COVID data for Montgomery County:1. On July 29, 2021, Montgomery County recorded 384 new cases.2. Between July 19 – August 1, there have been 2856 new cases in the county, with a seven-day average of 275 cases per day.3. The majority of cases are people that have not been vaccinated.4. Based on our survey, New Danville has a 64% compliance rate for vaccinations. This includes both staff and clients.
Although I will not be instituting a mask mandate at this time, we will be making the following adjustments:
1. Masks will be required for anyone using transportation effective Wednesday, August 4th. This will also include transportation to and from community events.
2. All visitors to the facility will be required to have a mask. Signs will be posted at each entry.
3. We will continue to reinforce frequent handwashing and cleaning of all program areas and buses.
4. We will respect the right of everyone to choose to wear a mask.

Again, thank you for your cooperation with this. We will continue to monitor the situation for our county and make further adjustments if needed. The health and well-being of our clients and staff is our primary priority.
July 5th, 2021
Closed Monday, July 5th for Independence Day Holiday
March 5th, 2021
Although Governor Abbott has lifted the mandatory mask mandate, I am sharing with you the latest from the Texas Health and Human Services Commission: "until further notice providers must continue to adhere to all current COVID-related guidance, rules, and infection control policies. According to HHSC, at this time changes to these policies will only occur when CMS and/or the CDC issues revised guidance. "
CMS = Center for Medicaid Services
CDC = Center for Disease Control

Although New Danville is not a contracted provider with HHSC, we do serve many clients that receive waiver services through community providers. As such, we too must adhere to these guidelines. Please use this information in the event a client, family or visitor challenges the mask mandate here at ND.
March 1st, 2021 Letter to Families
New Danville Update to Families
Dear Families and Caregivers:
It's been a long time since we have been able to come together and share the latest news from New Danville. 2020 was a year like no other and we are anxiously waiting for a return to normal, whatever that might look like in our near future. The start to 2021 was not much better given our weather emergency. We pray that all of you were not significantly impacted.
Here's to brighter days ahead!
First, for those of you that have not returned to the day program, we certainly respect your decision. Please let your family member know that we miss them and look forward to the day when we can once again see them. We have missed everyone! Most of all we have missed the joy and energy they bring to our days. We do want to take a moment to give a special thank you to the parents and volunteers of the LARA group. They were very generous in delivering a wide variety of hot meals to the Meadowbrook residents during 2020, and have once again resumed the Birthday Bash celebrations.
As you all know, we struggled through all of last year; however, thanks to many wonderful supporters, we saw our way through the most difficult times. Even though our Spring Thing event had to be once again postponed, we diligently monitored our finances to ensure that we "kept the lights on." The 2021 Spring Thing event has been moved to 2022, but in its place, we are putting on "Play a Round for the Wranglers" Golf Tournament to be held at the Woodforest Golf Club on May 18, 2021. If you would like more information on this wonderful event, you may go to www.newdanville.org/golf.
On a positive note, we are nearing completion of our new pallet production work center. Thanks to the incredible generosity of Charbonneau Industries, they have donated the construction of a new building exclusive for this work program. Our partnership with Charbonneau Industries has been a blessing as it has provided meaningful work for some of our adults. Their support and generosity continue to amaze us. We are anxiously awaiting completion of the project and plan to have a ribbon-cutting grand opening ceremony. Be on the lookout for this event as we will post the day and time to Facebook.
Our Meadowbrook residential program is back to full occupancy having filled two recent vacancies this past month. The pantry that used to operate once a week out of House 4 has now been moved to the large brown cabin. An exciting new change is that we are working with the TLC Food Pantry in Willis to include non-perishables to our pantry. This will assist our residents that may "run short" of food items during the month. We want to thank our staff Jennifer Mauboules for spearheading this new addition.
We are also incorporating fresh greens to the offerings. This last addition is solely as a result of our new aquaponics garden in the greenhouse. We do need to give a great big "thank you" to Mark and Ginny Bodman for steering this along for us during this past year. Thanks to their knowledge and efforts we are growing fresh herbs, lettuce, spinach, and other leafy greens right here on our facility. We are also sending fresh herbs to Jazzy Junque. Our dream is to continue to build on this as yet another work option for clients. Great things happen one step at a time!
Speaking of Jazzy Junque, we want to give a special thank you to the dedicated volunteers that have made this operation such a success. Not only have they made it through 2020, but more incredibly, they had the best year ever!! The volunteers at Jazzy Junque, and the success of the store, have been critical to our ability to keep things going this past year. Please note, they are always looking for volunteers. If you are interested in volunteering, you may go to www.newdanville.org/get-involved/.
Lastly, the best news yet! New Danville has hired a Development Director to help us with our long-term plans of more housing, expanded program options, and a stronger financial foundation. Mr. Dion McInnis will join our team on March 17, 2021. We hope to be able to personally introduce him to you later in the year. We are excited to have him on board and work together to make the vision for New Danville a reality.
Through this all, a special thank you goes out to all of our staff. Many were furloughed for numerous months, yet none left New Danville. They are truly valuable and an asset to our agency. It goes without mention that Randy Smyth and Nicole Martinez have been instrumental during these difficult times and have met each challenge head-on. We are blessed to have such dedicated staff supporting our efforts.
In closing, once again, we look forward to the day where our program is back in full swing. We miss everyone; the laughter and organized chaos of any given day, but most of all we miss all of our clients.
We thank you for your continued support of our program and our mission.
Our warmest regards to all of you.
Eva T. Aguirre
President & CEO
Feb 17, 2021: CLOSED until Monday, Feb 22nd
Due to continued dangerous road conditions in Montgomery County, the possibility of rolling power outages, and now problems with our water system – New Danville will remain closed the entire week. We will re-open Monday, Feb 22nd
We apologize for the inconvenience, please stay safe.
Feb 15, 2021: Winter Weather Closing – New Danville will remain CLOSED on Tuesday & Wednesday
Due to road conditions in Montgomery County, the possibility of rolling power outages, and frigid cold – New Danville will remain closed Tuesday & Wednesday.
Stay tuned for further updates if situation changes for Thursday.
Feb 12, 2021: New Danville will be CLOSED Monday, February 15th.
The forecasts now show that extreme cold and icy conditions for Monday are expected. Nobody should be on the roads Monday.
Residents: Please let us know if you'll be leaving during this weather event.

Conditions may require closing Tuesday as well. We will send another notice later, concerning Tuesday.

Remember, we post these notices:
via E-Mail to active clients, providers, staff, and residents
We update our website https://www.newdanville.org/status/ (also under "Contact" on the website's main menu)
Post an update on Facebook
And we'll update our voicemail message at the main number 936-344-6200
Past Updates:
Jan 28, 2021
Dear Families and Caregivers:
As we look forward to having everyone return to the day program on Monday, February 1st, there are a few things that I want to bring to your attention and request your assistance with:
We will continue to strongly reinforce mask-wearing. We will especially be focusing on those that tend to slide their masks below their nose. Please help us to reinforce the proper way to wear a mask.
If you use transportation, the mask must remain on at all times while on the bus. We will be covering this with our drivers as well.
Social distancing will be monitored very carefully. This will particularly apply to those that eat lunch under the pavilion. It's human nature to want to socialize; however, we need to adhere to the 6-feet guidelines. Only one person per table will be allowed if they are eating lunch outside.
For the time being, bowling will be suspended. We will have different activities during that time. Nicole is working on the new activity schedule and should have it ready by Monday.
We appreciate your on-going support and will continue to strive for as normal an activity day as we can.
Jan 21, 2021
Dear Families and Caregivers:
I regret to inform you that we have been notified of a second COVID-19 positive person at New Danville. This is a client currently in our day program. Given this development, I highly encourage you to have your family member tested if they were in attendance thru Monday, January 18th.
Due to this development, the day program will follow the recommended protocol and remain closed through the end of next week. Day program activities will resume on Monday, February 1st. We apologize in advance for the inconvenience this may pose, but like you, the safety of our clients and staff is our first priority.
New Danville staff are in process of getting tested, the results that are back thus far have all been negative.
If you have any further questions, please do not hesitate to contact us.


Jan 18, 2021
Dear Family and Caregivers: We must notify you that this morning a staff member received a positive result on their COVID-19 test. This person has not presented any symptoms, but a household member has also tested positive with mild symptoms.
Although we practice social distancing and require mandatory mask-wearing while in the program, this employee would have had direct contact with all clients and staff. As a precautionary measure, we will close the program for the remainder of this week. We will reopen on Monday, January 25th.
We also recommend that you schedule a COVID test for your family member, and/or isolate. Please keep us informed if your family member develops any COVID-like symptoms or has a positive test.
We regret the inconvenience this may cause; however, the safety of those we serve is our top priority.

Jan 10, 2021
In an abundance of caution, New Danville will be closed tomorrow, along with Willis Independent School District School (WISD) – due to the deteriorating weather conditions tonight, and the possibility of icy roads in the morning.
We want to ensure the safety of our clients and staff. Stay Safe,See you Tuesday!
March 6, 2020
New Danville is monitoring the events surrounding the Coronavirus. We are following the guidance of local school districts who monitor the Montgomery County Public Health in conjunction with the Texas Department of State Health Services and the Centers for Disease Control (CDC). We will continue to seek direction from the above named agencies as this develops and make plans accordingly for the health and safety of our clients, staff and community.
The coronavirus is a virus that causes respiratory illness in people and can spread from person-to-person. The virus is not currently widespread in communities in the United States, and there are no confirmed cases in Montgomery or Harris County. The greatest risk of infection is for people in China or people who have traveled to China.
Simple everyday preventive actions help prevent the spread of viruses. For more information, visit the CDC Website. https://www.cdc.gov/coronavirus/2019-ncov/index.html
– Avoid close contact with people who are sick.
– Avoid touching your eyes, nose, and mouth with unwashed hands.
– Wash your hands often with soap and water for at least 20 seconds. Use an alcohol based hand sanitizer that contains at least 60% alcohol if soap and water are not available.
– Stay home when you are sick.
– Cover your mouth and nose with the inside of your elbow when you cough or sneeze.
– Clean and disinfect frequently touched objects and surfaces.
We have increased cleaning frequency, with disinfectant cleaner that is approved for use in hospitals and other health related organizations,
We have also printed and posted several CDC posters (in English and Spanish) on the importance of hand-washing and how not to spread germs and Coronavirus specific posters.